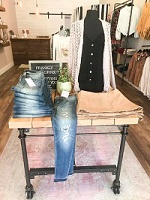 36 S. Main St.
Miamisburg, OH 45342
Phone: 937-654-1875
Miamisburg Native Ashley and team brings you the latest and greatest trends in her unique, one of a kind boutique on Main Street!  Shop the latest styles and gifts in store or online.
Dresses, skirts, shirts, pants, accessories, and more!
STORE HOURS:
Sunday & Monday // Closed
Tuesday – Friday // 11:00 a.m. to 7:00 p.m.
Saturday // 10:00 a.m. to 5:00 p.m.
---
« All Business Listings