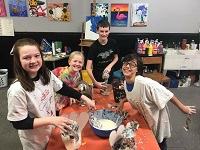 19 S. Main St.
Miamisburg, OH 45342
Phone: (937) 846-5426
Dabble Creative Studio is an art education resource for students of any age to share, play, and explore art through its history and materials.
They offer camps, classes, open workshops, and private parties for kids and adults! Their mission is to have fun through creative exercise and the hope is to inspire learning, innovation, and community collaboration.
Walk-In Hours:
Tuesday-Thursday 11:00 am – 7:00 pm
Friday 11:00 am – 9:00 pm
Saturday 11:00 am – 5:00 pm
---
« All Business Listings