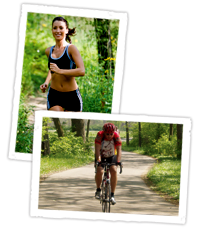 One of the largest recreational trail systems in the U.S.
Whether you ride for sport, fun, exercise, pleasure, or all of the above, Miamisburg has access to an extensive system of bike trails. All together, the Miami Valley area offers over 300 miles of trails that stretch across ten counties surrounding the Dayton area. One of those trails, the Great Miami River Trail, passes right through the heart of downtown Miamisburg along the Great Miami River. The trail passes museums, monuments, picnic areas, restaurants, acres of natural terrain, and is just 12.4 miles from Downtown Dayton attractions. Miamisburg is also a great stopping point on the trail. Bicyclists can grab an ice cream cone at an ice cream shop, or enjoy a glass of iced tea at one of the area restaurants. Best of all, it's fun! So get on your bike and explore!
Not only is Miamisburg a popular biking destination, but it also attracts plenty of runners annually. The same paths that are used for hiking and biking invite runners to partake of the trails as well. Miamisburg's annual Turkey Trot attracts many marathon runners in the area and in other cities. The Turkey Trot features a 1-mile course and a 5-mile course. The race always kicks off at the Baum Opera House with festivities following the race. So if you love a rush of adrenaline, put on your running shoes and discover where they take you!
Download Miami Valley Bikeways Map & Guide
Bikeways on Miami Valley Regional Planning Commission website
Plan A Bike or River Trip website