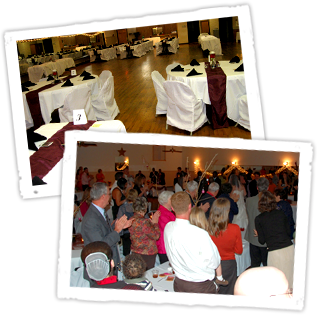 As part of our series to spotlight local downtown Miamisburg businesses and provide facts and information that you may not be aware of. This week our spotlight is on B&B Riverfront Hall.
About Us
We welcome you to B & B Riverfront Hall, which is located on Main Street in quaint and historical downtown Miamisburg, Ohio. You will be welcomed to the facility through the charming courtyard that is nestled among the historical buildings, and then will be pleasantly surprised by the grace and charm offered at B & B Riverfront Hall.
Our Mission
We are a family-owned business that takes great pride in our facility and we pay attention to every detail to ensure that the hall is clean and ready for your event. You will be dealing with the "Owners" when you book your event at B&B Riverfront Hall, and we will provide you with a fair and honest experience. The staff at B & B Riverfront Hall is here to serve all of your needs, providing you personal service from the beginning to the end of your event. B & B Riverfront Hall has been privileged to host weddings and receptions, anniversary parties, birthday parties, dances, reunions, gospel groups and entertainers. Our goal is to make your "special occasion" just that.
Our History
B & B Riverfront Hall was originally a "square dance hall" boasting over 3000 sq. ft. floating oak dance floor and can easily accommodate your party of 250 persons with adequate room to "dance the night away." B & B Riverfront Hall was purchased in 2005 and we chose the name of B & B Riverfront Hall after our daughters, Brooke and Bailey, along with the fact that we are located on the Great Miami River. For more information, contact:
B&B Riverfront Hall
17 S. Main St. Miamisburg, OH 45342 Phone: (937) 859-4554
www.bbriverfronthall.com