350 Miles of Recreational Trails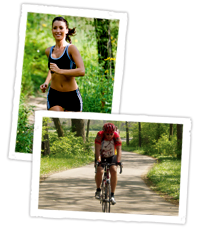 One of the largest recreational trail systems in the U.S.
Whether you ride for sport, fun, exercise, pleasure, or all of the above, Miamisburg has access to an extensive system of bike trails. All together, the Miami Valley area offers over 300 miles of trails that stretch across ten counties surrounding the Dayton area. One of those trails, the Great Miami River Trail, passes right through the heart of downtown Miamisburg along the Great Miami River. The trail passes museums, monuments, picnic areas, restaurants, acres of natural terrain, and is just 12.4 miles from Downtown Dayton attractions. Miamisburg is also a great stopping point on the trail. Bicyclists can grab an ice cream cone at an ice cream shop, or enjoy a glass of iced tea at one of the area restaurants. Best of all, it's fun! So get on your bike and explore!
Not only is Miamisburg a popular biking destination, but it also attracts plenty of runners annually. The same paths that are used for hiking and biking invite runners to partake of the trails as well. Miamisburg's annual Turkey Trot attracts many marathon runners in the area and in other cities. The Turkey Trot features a 1-mile course and a 5-mile course. The race always kicks off at the Baum Opera House with festivities following the race. So if you love a rush of adrenaline, put on your running shoes and discover where they take you!
Download Miami Valley Bikeways Map & Guide
Bikeways on Miami Valley Regional Planning Commission website
Plan A Bike or River Trip website
---
Enjoy a trip on the Great Miami River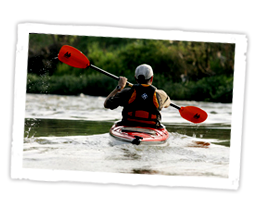 Great Miami River is a designated water trail
Picture yourself launching out onto the Great Miami River in a kayak. The sun makes the water sparkle. As you cut into the river with your paddle, a Great Blue Heron flies just above the water. In Miamisburg, this picture doesn't have to be a pleasant daydream. It can be a reality. In Miamisburg and surrounding areas, the local watershed includes the Great Miami, Stillwater and Mad rivers; and is known for its water supply, recreation and high-quality streams. There are plenty of kayaking and canoeing lessons, rentals and other resources in the area, including Great Miami Outfitters in downtown Miamisburg. Be sure to check out some of the links below and explore all the rivers have to offer!
Download Great Miami River Water Trail Map
Great Miami Outfitters website
Miami Conservancy District website
---
Explore on Foot!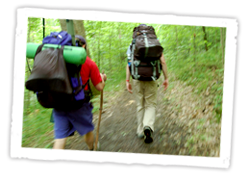 Strap on your boots and hit the trail! There are plenty of scenic hiking trails in the area. You'll discover miles of trail on the nearby Twin Valley Trail, and you will also have the opportunity to see plenty of wildlife on the trail. The Great Miami River Recreation Trail travels along the Riverfront Park in Downtown Miamisburg, offering alternative transportation and scenic views. It also offers the opportunity for hikers and backpackers to grab a bite to eat or cool off and explore the area museums. With more to explore, it's no wonder Miamisburg is a hiking destination!
Download Twin Valley Backpacking Trail Map
Five Rivers MetroParks website
Great Miami Outfitters website
---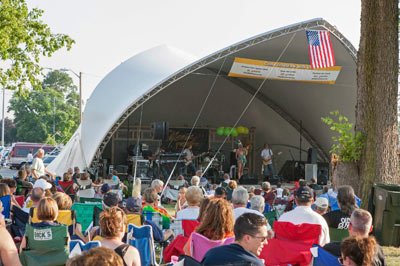 Explore Riverfront Park!
Out of all of the area parks, Riverfront Park is the park most accessible to Downtown Miamisburg. The park covers 7 acres of green space along the Great Miami River. Riverfront Park has excellent access to the Great Miami River Recreation Trail. The park is also host to many area events such as concerts and carnivals. Ample parking and bike racks make the park very accessible to different forms of transportation. The park is also a short walking distance to Downtown Miamisburg shops and restaurants.
Future park development includes a permanent stage, river access, bike depot, water play fountains and restroom facilities. Port-o-lets will be available during the interim phase. We hope you will join us in the park to continue the growth of this community space!
City of Miamisburg Parks and Facilities website
---
Make a Splash!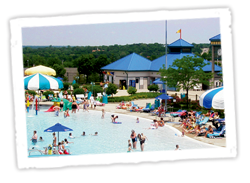 Make a splash and explore the world from a different vantage point, underwater! It's one of the great luxuries of summer. Students (and teachers) look forward to it all year long – the pool! Sunscreen, swimsuits, shades are all you will need to enjoy Miamisburg's Sycamore Trails Aquatic Center (STAC). STAC was named "Best Fun in the Sun 2008″ by Ohio Magazine! The waterpark features a 174-foot tube slide, a 133-foot body slide, sand volleyball courts and more. Let this award-winning facility redefine what it means to cool off this summer!
Sycamore Trail Aquatic Center
400 S. Heineke Road
Miamisburg, Ohio 45342
Aquatic Center Hotline: (937) 847-6680
Website
---
Not Just Golf!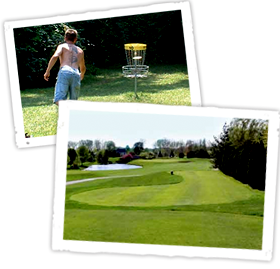 This isn't your grandma's teatime; it's tee time! Head to Miamisburg and enjoy a day out on the course. Miamisburg features two public golf courses – Pipestone and Mound. Enjoy the green and the surrounding scenery. Afterwards, partake of the clubhouse, and we guarantee you'll be back again.
Not skilled with a putter? Perhaps a game of disc golf in Sycamore Trails Park would suit you. It's a great way to have fun with friends or the whole family! The course is a physical course with two small streams and one large hill. The course was designed by committee over 3-year period to ensure a challenge and a good variety of holes.
PipeStone Golf Club
4344 Benner Road
Miamisburg, Ohio 45342
Phone: (937) 866-4653
Fax: (937) 847-6427
Pipestone Golf Club website
Mound Golf Course
757 Mound Avenue
Miamisburg, Ohio 45342
(937) 866-2211
Mound Golf Course website
Scott Erke Disc Golf Course
Sycamore Trails Park
214 S. Heineke Road
Miamisburg, Ohio 45342
Download Sycamore Trails 18-Hole Disc Golf Course Map
---
Skate, Blade, Ride!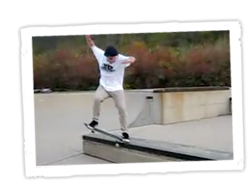 If you like skateboarding, rollerblading, or popping a wheelie on your BMX bike, then you'll want to visit Miamisburg's skatepark. Opened in 2001, the 12,000-square-foot concrete skatepark features a large bowl, curves, ramps and other obstacles. Whether you're new to skateboarding or practically a pro, this park is free and open to the public. The park is open during the daytime hours and public restrooms are available. So get to the skatepark and catch some air!
Community Park
550 S. First Street
Miamisburg, Ohio 45342
---