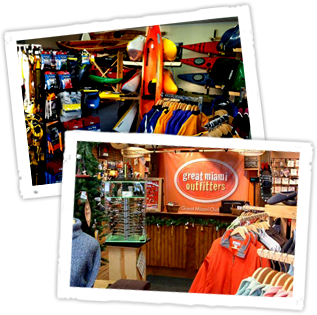 Cast your vote! Great Miami Outfitters is among 30 outdoor retailers nationwide to be nominated by SNEWS as "Retailer of the Year." SNEWS is the most trusted outdoor news, wintersports news and fitness industry news since 1984. "Like" their facebook page and cast your vote for Great Miami Outfitters!
CAST YOUR VOTE >>
(Go to SNEWS Facebook page and scroll down to the voting post.) Voting ends Monday, November 21st at 5:00pm. If you want to give Downtown Miamisburg some good press, be sure to cast your vote for Great Miami Outfitters. We've got "outdoor" spirit! Here's a little more information about Great Miami Outfitters:
About Us
We are an independent, family owned and operated small business that opened our doors in May 2007. We carry the highest quality gear and apparel, usually only found in outdoor specialty stores. We are constantly evaluating our inventory to ensure that our customers have access to new products on the market.
Our Mission
Great Miami Outfitters is a premier supplier of outdoor gear and apparel for outdoor enthusiasts in the greater Miami Valley, while being an information resource of area outdoor activities and facilities. Our staff is passionate about the great outdoors. We are knowledgeable about outdoor activities and the products we sell. Our enthusiasm and knowledge helps our customers enjoy the great outdoors with the right gear!
Where is our store located?
In the quaint and historic downtown City of Miamisburg, of course. We're located in a historic circa 1860s building, originally built as the Miami Hotel. We're close to the river and recreation trail, and only a few miles from the Twin Valley Backpack Trail – a 22-mile backpacking loop between Germantown and Twin Creek MetroParks.
Why is our name Great Miami Outfitters?
Our name is all about our location. We're located in southwestern Ohio where the Great Miami River is located. The Great Miami originates upstream from Indian Lake and flows southwest to its confluence with the Ohio River, west of Cincinnati. The watershed includes the Great Miami, Stillwater and Mad rivers; and is known for its water supply, recreation and high-quality streams. We believe it is one of many under-used natural assets of the region, and we'd like more people to enjoy the area's outdoor amenities. Great Miami Outfitters 80 S. Main Street Miamisburg, Ohio 45342 Phone: (937) 847-8787
www.greatmiamioutfitters.com