Miamisburg, OH 45342
Phone: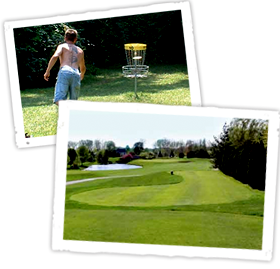 This isn't your grandma's teatime; it's tee time! Head to Miamisburg and enjoy a day out on the course. Miamisburg features two public golf courses – Pipestone and Mound. Enjoy the green and the surrounding scenery. Afterwards, partake of the clubhouse, and we guarantee you'll be back again.
Not skilled with a putter? Perhaps a game of disc golf in Sycamore Trails Park would suit you. It's a great way to have fun with friends or the whole family! The course is a physical course with two small streams and one large hill. The course was designed by committee over 3-year period to ensure a challenge and a good variety of holes.
PipeStone Golf Club
4344 Benner Road
Miamisburg, Ohio 45342
Phone: (937) 866-4653
Fax: (937) 847-6427
Pipestone Golf Club website
Mound Golf Course
757 Mound Avenue
Miamisburg, Ohio 45342
(937) 866-2211
Mound Golf Course website
Scott Erke Disc Golf Course
Sycamore Trails Park
214 S. Heineke Road
Miamisburg, Ohio 45342
Download Sycamore Trails 18-Hole Disc Golf Course Map
---
« All Get Outdoors Listings