Orange Barrel Alert: Road Construction on Central Avenue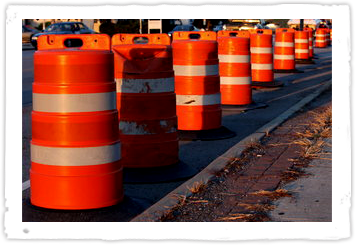 A major road construction project has begun to rebuild a primary corridor through the Miamisburg community. Central Avenue from First Street to Twelfth Street is being reconstructed as part of a City roadway grant project. reconstruction of this major gateway will replace broken and deteriorated sidewalks, curbs and gutters. Storm sewer improvements, utility re-location, decorative street lighting and installation of new waterlines will be part of this project. Sub-standard roadway lane widths will be corrected as well.
The roadway will be widened two to three feet and reconstructed from the railroad tracks east to Twelfth Street. From the railroad tracks west to First Street lawn strips will be added in the public right-of-way. New street trees will be planted.
Maintaining Traffic
Eastbound State Route 725 will be maintained throughout the construction project. Westbound SR 725 is re-routed with a signed detour. The side streets along Central Avenue will typically remain open with temporary closures during tie-in work.
Detour Map and More Information on City of Miamsburg website
Listed in Visit