Think Twice, Shop Local Campaign kicks off in Miamisburg!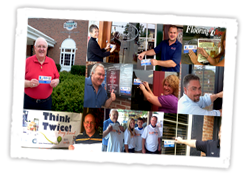 All month long businesses in Miamisburg are participating in a fun event called the SCANVenger Hunt. For the entire month of August, you can visit businesses and get special offers, discounts, and learn interesting facts about the business! This is a great way for you to engage with us using your smart phone and a new technology called QR codes.

The way it works is simple:
1. Register for Montgomery County's buy local program by visiting ThinkTwiceMC.com.
2. Visit your smart phone's app store and search for a QR code reader. We recommend either NeoReader or i-nigma (they are both free and work on most phones).
3. Visit TJ Chumps during normal business hours to get your Interactive Tee! Look around downtown Miamisburg for the window clings that have the Think Twice and SCANVenger Hunt logos on them. Scan these QR codes with your smart phone for a chance to win prizes by performing fun tasks and answering trivia questions at the participating locations!
Make sure you visit one of the following businesses and scan their Think Twice QR code, you never know what you are going to find!
A Taste of Wine
Alcor Supply
American Health and Fitness
Baver & Bookwalter
Bullwinkle's Top Hat Bistro
Buy It All
Chapman Financial
Church's Flowers
City of Miamisburg Annex
Dairy Queen
English Manor Bed and Breakfast
Farmers & Merchants Bank
Farmers Market
Flooring N Beyond
Fox Motors
Gary Hartman Design
Giuliano, An Anticoli Tavern
Good Time Charlie's
Great Miami Outfitters
Hamburger Wagon
Happy Days Cafe
Jatro Diesel
Koffee Kup
Masters Insurance
Miamisburg Barber
Miamisburg Library
Mound Golf Course
Nestor Insurance
Pappa's Pizza Palace
Pipestone Golf Course
Ron's Pizza
Second Street Cafe
Sycamore Trails Acquatic Center
TJ Chumps
Urban Loft
Van Lear Bridal & Formal Attire